iVcardo Booking & Operations Manager (BOM)
Not just a regular booking and dispatch system, iVcardo opens up a world of possibilities for entrepreneurial transport operators. Our cloud-based software includes all the essential features such as booking forms, pricing, auto-dispatch and an integrated driver app, but goes much further.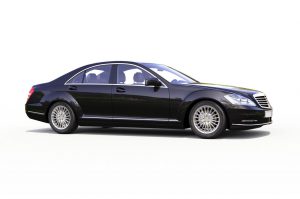 Your iVcardo BOM account provides new commercial opportunities, from corporate and travel industry booking integrations to networking tools that help you assign and manage your sub-contracted jobs.
Discover new horizons with iVcardo software.

Best for drivers
Our new driver app is tightly integrated with your iVcardo online account. Drivers receive jobs directly to their smartphone or tablet and update progress with simple-to-use buttons.
Jobs include all passenger and destination details and provides turn by turn directions to the pick up location and passenger destination via Google Maps.
Best for dispatchers
iVcardo features an advanced dispatch algorithm that optimises your fleet utilisation. Set the dispatch engine to run automatically and watch it assign jobs to the most suitable vehicle based on any number of preconfigured rules. Set a rule to send only your best drivers for special customers or executive cars for a key corporate client.
Our sophisticated dispatch algorithm can be set to assign the vehicle that is closest or the one that will arrive quickest based on local traffic data.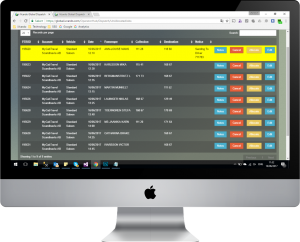 Allocate jobs manually from the jobs list, or use auto-allocation to assign each job to the nearest (by time or distance) eligible vehicle.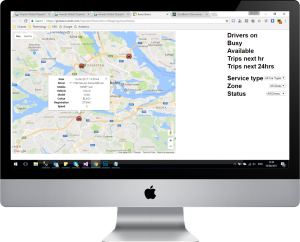 View the live status of your entire fleet any moment. Detailed journey records are generated for each service and stored for training or compliance purposes.
Automate your booking administration
Eliminate tiresome daily tasks by letting iVcardo take care of your booking administration. New bookings can be imported automatically;  flight and address details are validated for you. On the day of travel, the passengers' flight is monitored and the driver is alerted if the flight is delayed or diverted.
Via integrations with accountancy software such as Xero, iVcardo can even help you automate your billing processes. Detailed invoices produced in seconds will help you paid on time, every time.
Automate & Save Time
... adding new bookings
76%
... validating flight info
100%
... checking addresses
92%
... monitoring flights
100%


Join Our Network
Register your taxi or chauffeur company on iVcardo today and take advantage of our free trial period. No setup charges. No commitments. No obligations.
Your Virtual Fleet
Contact us today to understand how the versatile iVcardo platform, and our expanding network, provides a virtual fleet solution to suit your needs.
Join Our Team
On the street and in the news, you are witnessing a revolution in ground transportation. Come join us and help shape the future of this dynamic sector!